http://img.photobucket.com/albums/v125/Roganovich/00.jpg
http://img.photobucket.com/albums/v125/Roganovich/01.jpg
http://img.photobucket.com/albums/v125/Roganovich/02.jpg
http://img.photobucket.com/albums/v125/Roganovich/03.jpg
http://img.photobucket.com/albums/v125/Roganovich/04page.jpg
http://img.photobucket.com/albums/v125/Roganovich/05.jpg
http://img.photobucket.com/albums/v125/Roganovich/06.jpg
http://img.photobucket.com/albums/v125/Roganovich/07.jpg
http://img.photobucket.com/albums/v125/Roganovich/08.jpg
http://img.photobucket.com/albums/v125/Roganovich/09.jpg
http://img.photobucket.com/albums/v125/Roganovich/10.jpg
http://img.photobucket.com/albums/v125/Roganovich/11.jpg
http://img.photobucket.com/albums/v125/Roganovich/12.jpg
http://img.photobucket.com/albums/v125/Roganovich/13.jpg
http://img.photobucket.com/albums/v125/Roganovich/14.jpg
http://img.photobucket.com/albums/v125/Roganovich/15.jpg
http://img.photobucket.com/albums/v125/Roganovich/16.jpg
http://img.photobucket.com/albums/v125/Roganovich/17.jpg
http://img.photobucket.com/albums/v125/Roganovich/18.jpg
http://img.photobucket.com/albums/v125/Roganovich/19.jpg
http://img.photobucket.com/albums/v125/Roganovich/20.jpg
http://img.photobucket.com/albums/v125/Roganovich/21.jpg
http://img.photobucket.com/albums/v125/Roganovich/22.jpg
QUOTE ("Framing Story")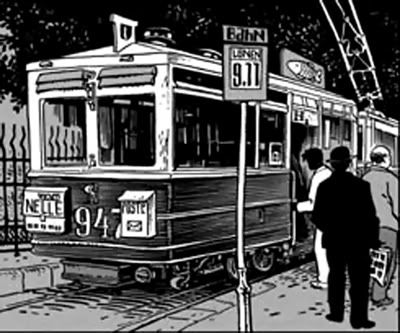 The rhythmical knocking continued, and even though I was inclined, as I mentioned above, to spend the afternoon writing, I couldn't resist it any longer. I got up, buttoned my dark green vest, which I prefer to leave unbuttoned while I sit and work, so as it wouldn't squeeze my belly and cause unnecessary heartburn, then went over to the door and opened it. Outside stood a gentleman whom, at first, due to his dark complexion, I thought to be an African, but a closer look showed me that my unknown and uncalled guest isn't an inhabitant of that ancient and underexplored continent. Africans, you see, have a complexion which, depending of their home region, varies from light-brown, almost sickly yellow complexion of the denizens of Sahara, to the dark purple, ebony-like tones of the natives from the heart of the continent. My guest, however, had a complexion so completely black, so black that his lineaments, even his main physiognomy features, like say nose, eyes or ears, often disappeared in it, creating an illusion that his head, and I can vouch that it is not the truth, is a mere black oval, a neat crack in the veil of reality through which we could see quite a sight, if we had the time to adjust our pupils to the complete lack of light. His strange physiognomy aside, his clothes weren't an everyday sight on the streets of Hamburg, city in which I was born, which I loved and in which I liked to reside. Far be it that he, like the aforementioned Africans, had a haphazardly thrown pieces of white-man's clothing on him, chosen mostly due to their tackiness and impropriety, but his outward appearance was quite prominent even without it. In spite of the late November, which in Hamburg can be quite cold and rainy, my visitor sported but an Italian-styled light linen suit, draped in a motley colored fabric of Mongolian, Russian or some other eastern origin. Over his shoulder he carried a white and blue seaman's bag, made from a waterproof fabric, while on his had he wore a tiny fur cap, made from golden fur, which he very politely took of with his deerskin-gloved hand as soon as I opened the door and found myself confused by the sight of him. That courteous movement, the nice arc of the fur cap, accompanied by a slight bow, told me that before me is not some vagrant or a vagabond, but a being of fine upbringing and civilized manners. When he addressed me in excellent German, although with no recognizable accent, I decided - intrigued, I admit, with this strange appearance - to invite him in, where I offered him cognac and a cigar.
- I'm incredibly grateful for Your generosity, mister Mann - said the young man, for, his age was never in dispute, he barely had half the winters that I had over my back. - And don't be afraid, I won't take too much of your time! I just dropped by seeing that You, as a man in the know, practically a native, could help me with a small matter.
Flattered by his words, I replied I would do anything within my powers to help him, even though I believed he could get equal help, if not better, from any other inhabitant of Hamburg.
- You are modest, and it goes to your honor - replied my visitor, whom I previously found out called himself La Bete Noire. I must admit I flinched the first time I heard the name, thinking that some personal and secret nemesis of mine had arrived at my doorstep, but the polite young man soon dissuaded me, telling me a short history of his family, adding a few anecdotes concerning his name. - I am, however, certain that you are the man I am looking for. You see, I am looking for an apartment.
I assumed my guest was searching for a place to rent out a room, and that someone must have misdirected him my way, for I do not let out rooms, seeing how I need peace that a man with tenants never quite has, for my writing. I said those same words to him, politely and with regret. My guest smiled and explained that my assumptions were incorrect. Namely, he was looking for a specific apartment, named Barbara Celarent Darii.
- She was just called Barbara when I saw her last - my visitor added. - And just a dressing room. Now I hear she grew up to be an apartment, added two names next to hers, and that she resides in Hamburg. seeing how she's an old and dear friend of mine, it would be most impolite of me not to drop by her, while passing through Hamburg.
I heartily agreed with the young man on that. Seeing how several months ago I did indeed meet the lady, I could praise her new premises and location with a view of the harbor far and wide. La Bete Noire was quite happy to hear those news, and was particularly delighted to hear that miss Barbara intends to add a balcony as well, and that she had already chosen her next name: Ferio!
- That is marvelous - cheered the young man. - Ferio! Simply divine!
I quickly gave him the instructions to the shortest way to reach miss Barbara, and asked him to give her my best regards, which he happily promised. I stood up to escort him to the door, when he, through the door I left slightly ajar, spotted the manuscript I have been working on. He showed great interest in it, and I had to explain to him that it was a
zeitroman
that I have been writing, in interludes, for nearly a dozen years, and which I hope to finish soon. La Bete Noire wished me every luck, said he looked forward to reading the novel, once it's done, and made a joke about how we would finish novels more easily if we were to start with the ending, so all previous chapters, written next, would sound quite different if we knew where they were leading, and how the story ends. I laughed at that remark,and said that it would most definitely be so, but that I don't intend to spend twelve more years writing the same novel backwards. At most, I added, I can promise I will ask the reader to, after reading it, read the book again, which should have a similar effect. My guest agreed, and added one of those sentences so appropriate to youth.
- If anyone was to write a novel about me - he said, - I would like it if he were to start with the ending.
After that, we parted. La Bete Noire went off to search for miss Barbara, and I returned to my novel, which I did indeed finish soon. I later often and gladly recalled the encounter with my strange guest, and sometimes even thought about putting him in some novel with a reversed timeline. For that, however, and for many other things, I never found the time, just like I never managed to return to my guest his small golden fur hat that he left under the armchair in which he sat during his visit.
(Thomas Mann, an excerpt from an unpublished essay, 194?)